Most cat toothbrushes aren't actually built for cats...
RYERCAT is the only toothbrush designed for feline anatomy.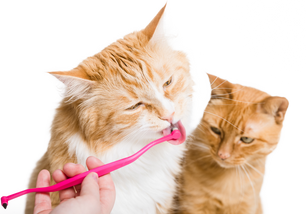 9/10 customers find RYERCAT is easier to brush with than their previous toothbrush
as a vet tech, i see SO many young cats come in with dental disease. my kiddo is only 2 and he already has pretty significant gingivitis, so i try to stay proactive about his dental health. the small size and angle makes it super easy to reach those back molars/premolars and the pointy side is super useful into getting into hard to reach places. i've recommended it to all of my coworkers and several clients who ask about maintaining their cat's oral health🩷🦷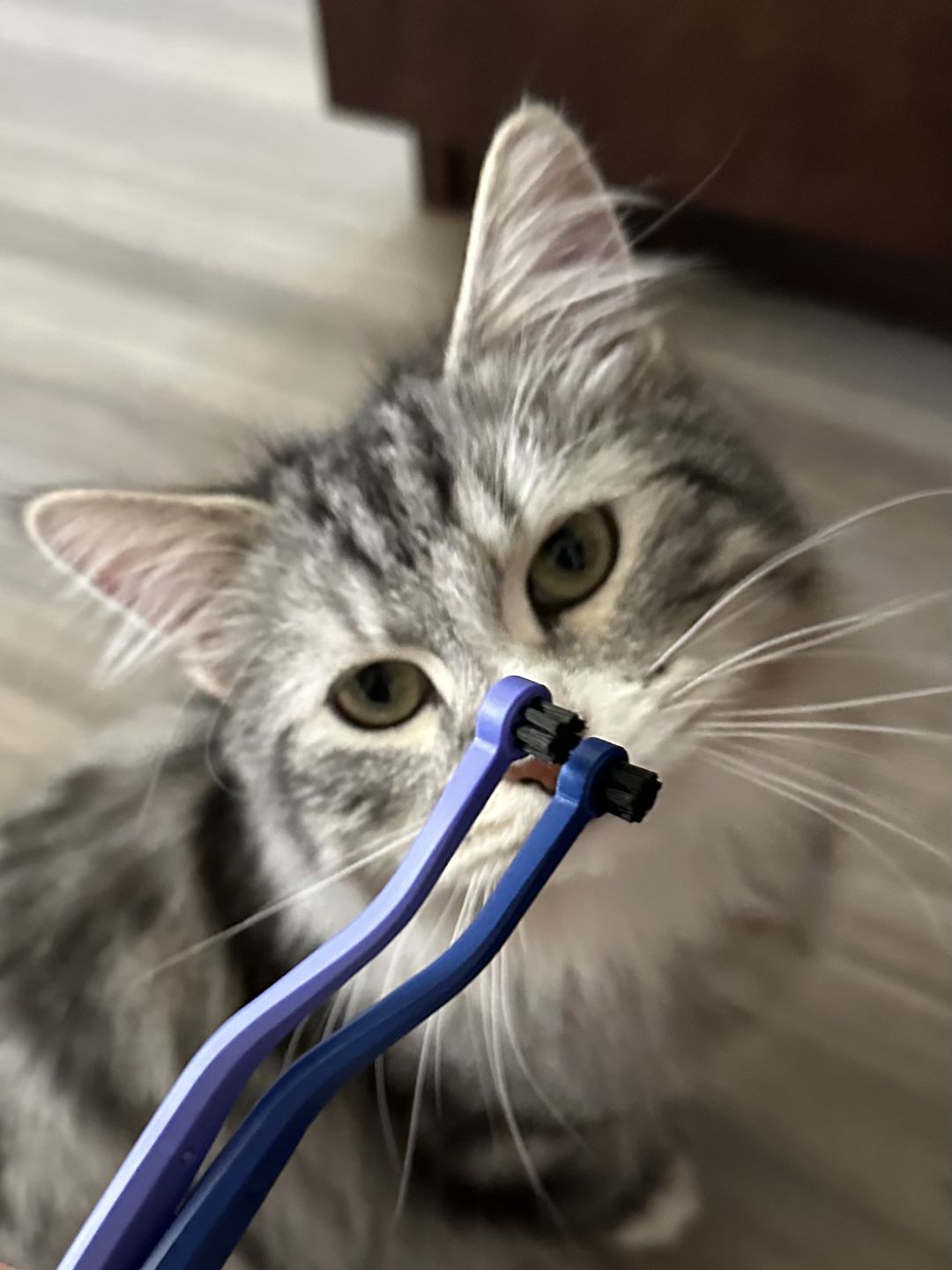 We've tried several brushes before, but we love these brushes for our two cats! Very easy to use and great at reaching the areas that are hard to get to.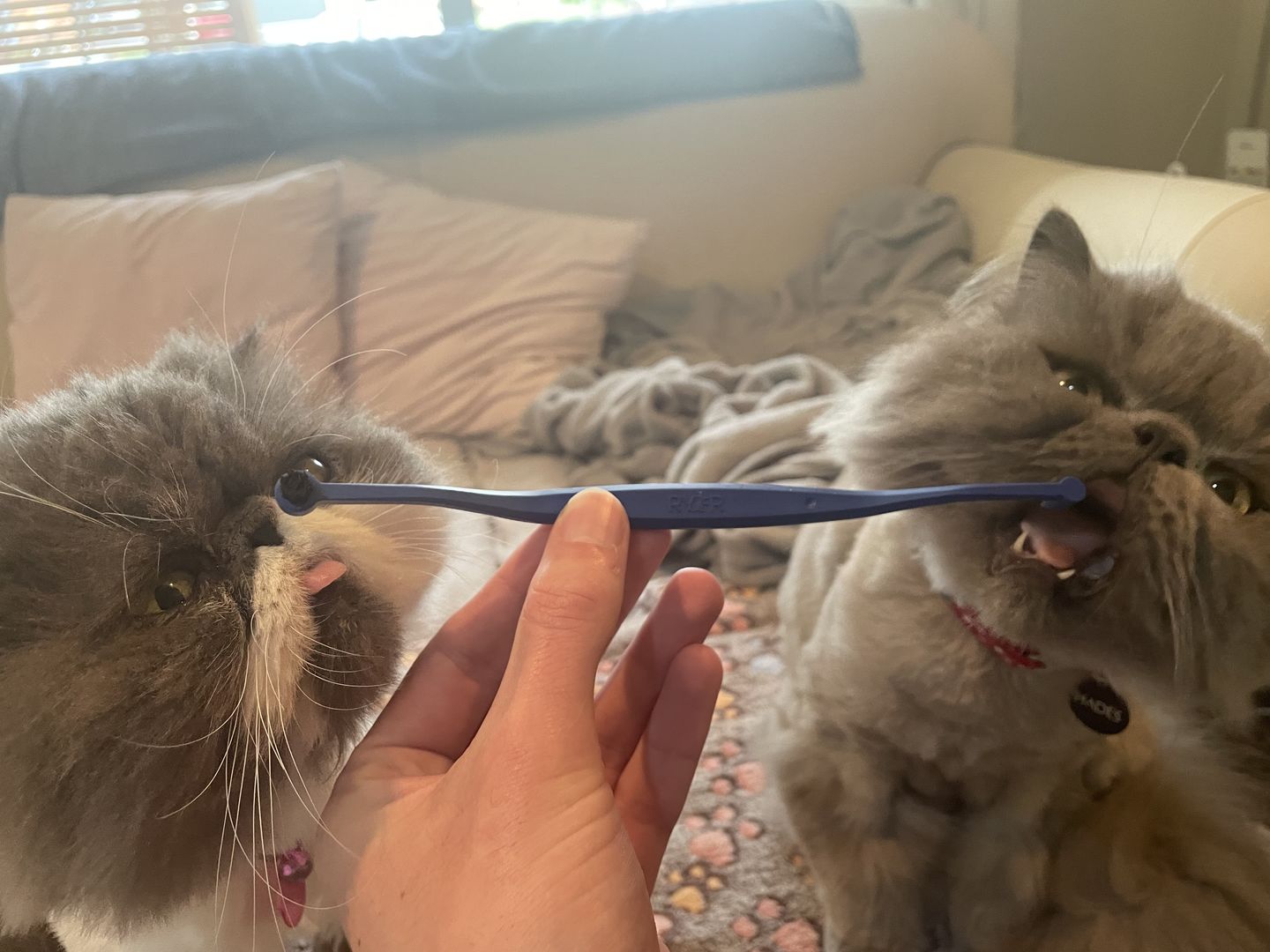 Fantastic quality of products, it makes brushing our cats teeth 10x easier. The customer service was exceptional as well, and considering the products had to be sent to me in New Zealand, I wasn't waiting too long, and was kept up to date with quick responses. Would absolutely recommend!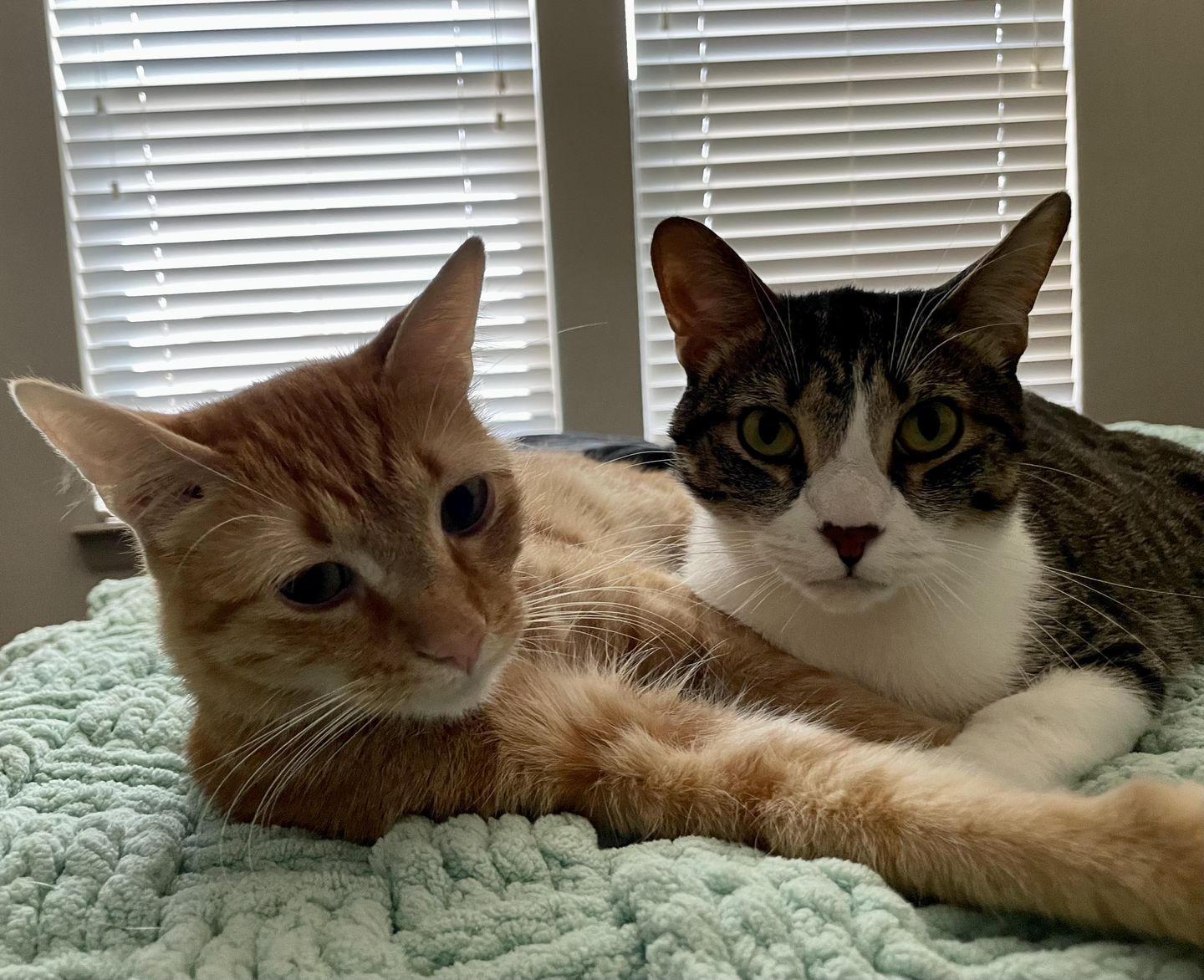 I bought these for my two boys Frog (4, brown/white) and Damien (2, orange, he has stomatitis)— when I first saw that these tooth brushes were being developed months ago I was SO excited to see a CAT toothbrush being developed and followed! I always struggled with every pet tooth brush— they were too bulky and big and not right for my kitties. I was so excited when these finally arrived and I gave each of their toothbrushes a try I could immediately tell they were more suited to the size of their teeth and the shape of their mouth, and they were easier for me to hold too while brushing. Damien even tolerated it longer than he normally does because I could focus more on his actual teeth without hitting his gums so much, and I could definitely tell the bristles were softer. I found this toothbrush to be a winner and so happy for it 🥰
so excited to give this a try, it's the most beautiful little toothbrush i've ever seen! my well mannered kitty luckily allows me to brush her teeth, she was already trying to chew on it as soon as i took it out of the box! it arrived on time, nice packaging too! now to go find some kitty toothpaste :)
we love the tooth brush! hercules is getting older, and so are his teeth. i've been worried about his dental health, and i've bebe found a brush he would let me use. i love the small brush head and the angles of this brush! his teeth are already starting to look better after 2 weeks of brushing! i'm so happy and relieved!
I love this tooth brush! I took it to our veterinarians and they also loved it & are now recommending it for all cat clients. Even my boy I thought would put up the most resistance enjoy it!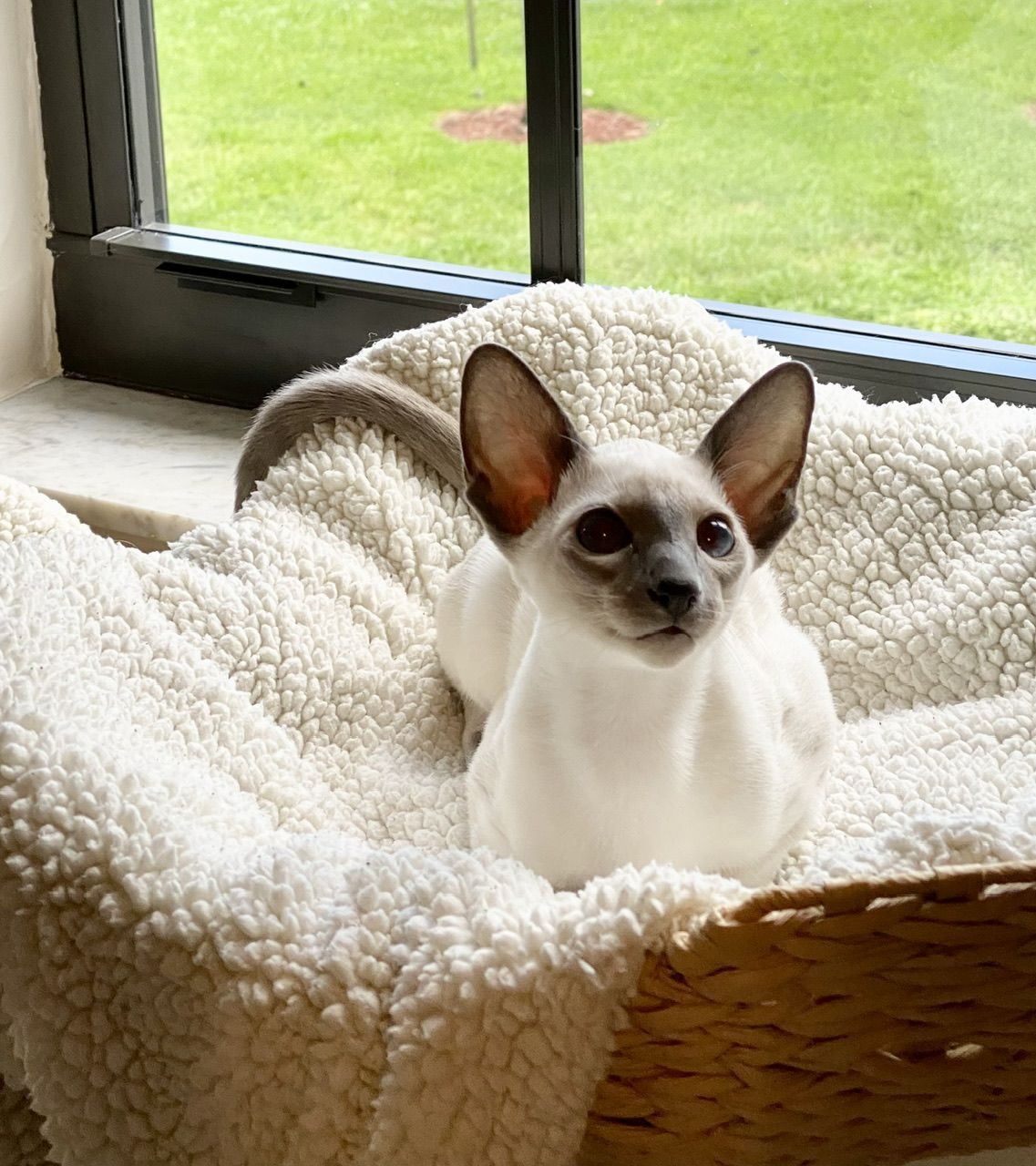 My kitty's name is Freyja. She is close to 5 months old. I love the toothbrush head it's small and so easy to use. I am not having any problems brushing her teeth a she keeps trying to carry it away!😂. I am very happy and will purchase a couple more toothbrushes for my other cats!
Y'all, I have tried EVERYTHING with this cat and his teeth, to no avail. Until RYERCAT He won't eat dental treats or *anything* crunchy, but his teeth get so bad that he has to have a dental every 6 months. Our vet had me try brushing his teeth with a toddler toothbrush, but that failed - he'd run and hide at the sound of the drawer and the sight if it. Then a qtip. That failed because he'd clamp his jaw shut. And finally, they said "just smear the CET toothpaste on his teeth with your finger." But that wasn't effective enough. My husband sent me an ad for RYERCAT. I watched the videos and felt like it was worth a shot because dentals every six months are a LOT. Y'all, IT WORKS! Not only does he not run from this toothbrush, HE LIKES IT! And he likes the dental sticks too. He will half brush his own teeth by opening his mouth and rubbing his teeth in the toothbrush!! You've done it, Ryer!!!! 20/10 recommend. Great job!!!
It's absolutely brilliant toothbrush we instantly became huge fans and i do mean both of us. Timon now comes himself when i ask if he wants to brush his teeth if i don't ask he meows and stalks me until i do. Before this huge purchase to stock up we went through 2 toothbrushes they also last a lot longer for us than any others we used. A lot softer and definitely smaller purrfect for kitties mouth. Thank you so much Ryercat team 🩵🩵🩵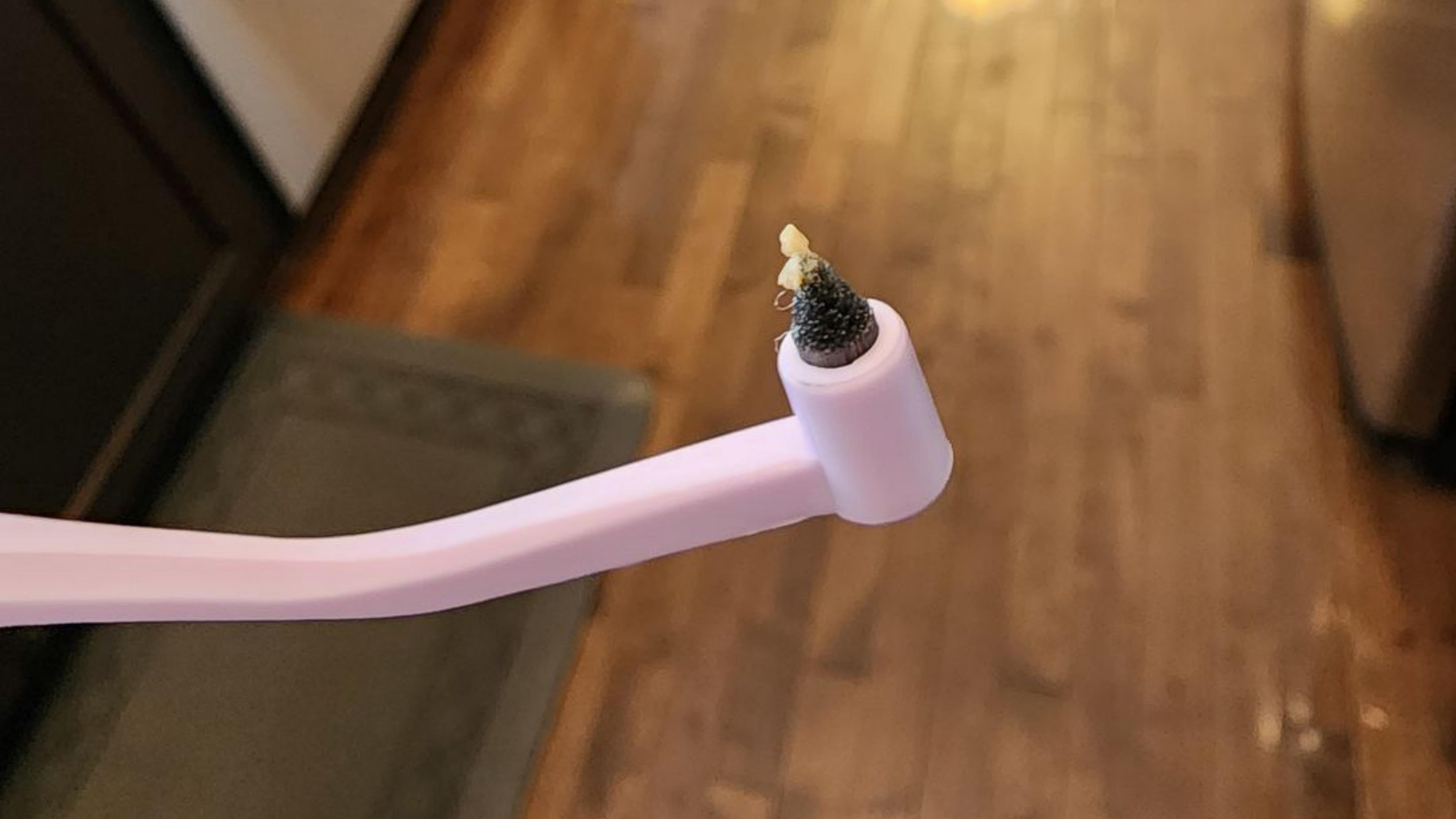 Get this toothbrush! I was noticing that my cat Milo breath started to smell a bit fishy and he didn't really have any fishy treats at the time. I looked it up and it was due to plaque. When I tried the brushes you get at the store it was way too big for our little guys mouth. So I got this one, it was a GAME CHANGER!! The first two days of me using it, plaque was literally FLYING out of his mouth. It was NASTY! This photo is what happened after put the brush on his teeth for less then a second. We have been using it for a month now everyday, the fishy smell is all gone AND there is no more insane amount of plaque on his teeth. I have honestly been recommending this toothbrush to everyone with a cat!
This really is a very nice cat toothbrush. It is small enough to target the teeth and not bother their gums that much and also fits nicely in their mouths. The bristles are strong enough to keep the teeth clean. It looks like I finally found a perfect cat toothbrush.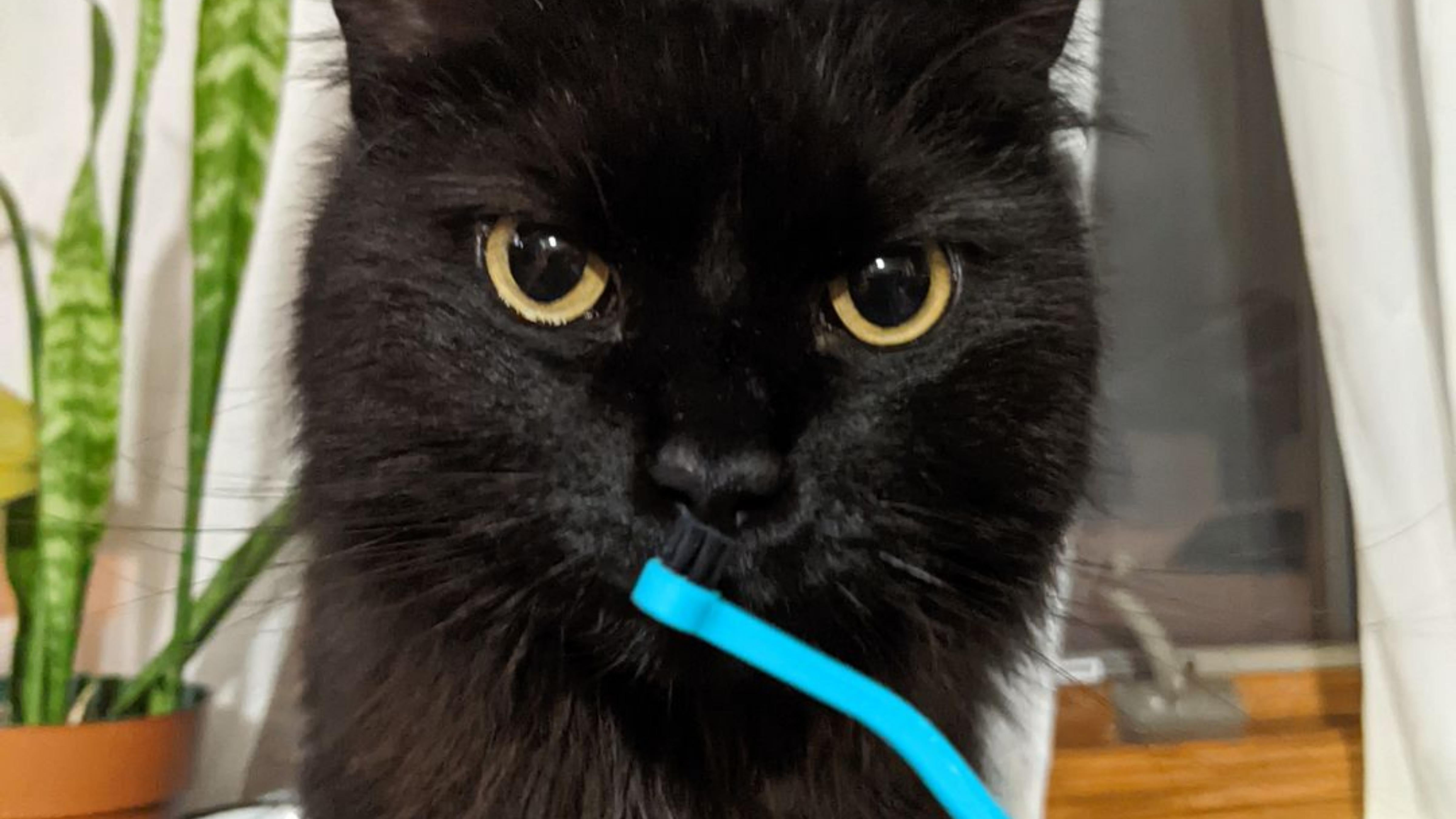 We love this toothbrush! I've started brushing my cats teeth every day and over the last 2 weeks I have seen such an improvement! The vet even said that Pandora's teeth looked great. I'm so excited to continue using this, and I can't wait for the toothpaste!
Purchasing this toothbrush is easily one of the best decisions I've made when it comes to my little man (Storm). It's very easy to use and he didn't put up a fuss at all. The small pointed end makes it super easy to clean his teeth effectively. I really love the long handle, it's much more comfortable to use than anything else I've tried. Thanks to the lovely people at Ryercat I now have a very happy and healthier boy (as you can see in the pic taken a few minutes after brushing his teeth!) Definitely give this brush a go with your cat.
Lifesaver!!!! Eleanor has struggled with dental hygiene her whole life, and I've never been able to brush her teeth properly. It's a struggle, she has a tiny mouth and sensitive teeth. After being faced with potential surgery, I knew I needed to find something else. She put up a struggle at first, but it almost seemed like she realized the toothbrush didn't hurt or make her uncomfortable like the others! I was able to actually brush her teeth within seconds rather than just fight with her for several minutes. I'm so excited to see how her teeth improve as we get to use the brush for longer increments. I'm so happy I found this toothbrush, and the price point is fantastic considering how well it works.
Our Cat Specific Toothbrush
RYERCAT Dual Sided Cat Toothbrush
RYERCAT Dual Sided Cat Toothbrush
Free shipping to USA, Canada, Australia
More details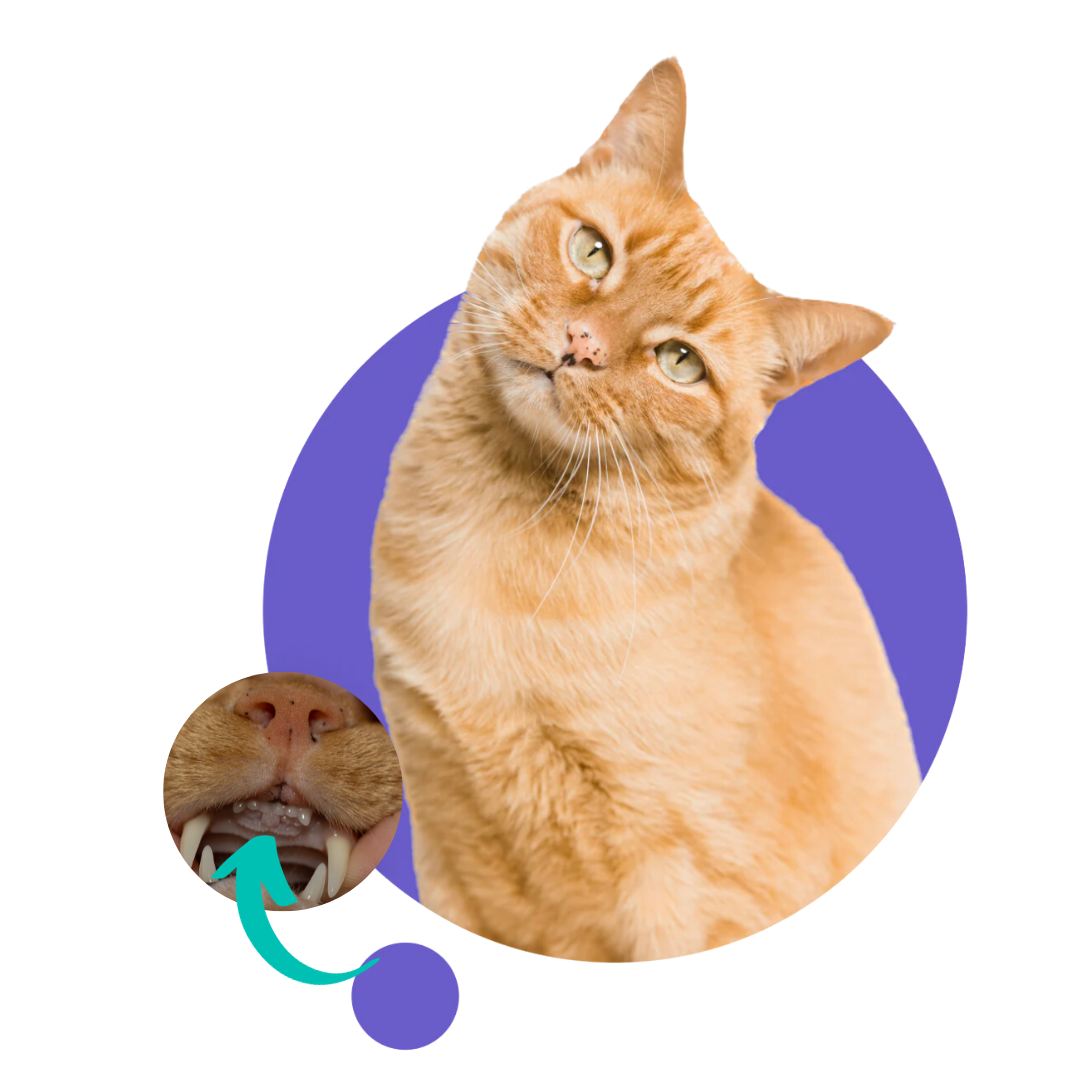 So why is brushing a cat's teeth so freaking hard?
Meet your cat's funny bone: The Jacobson's Organ.
The curve of this toothbrush is designed to avoid hitting the sensitive nerve ending behind your cats front teeth (Called the Jacobson's Organ). The curve is the average length from the back teeth to clear the front teeth completely.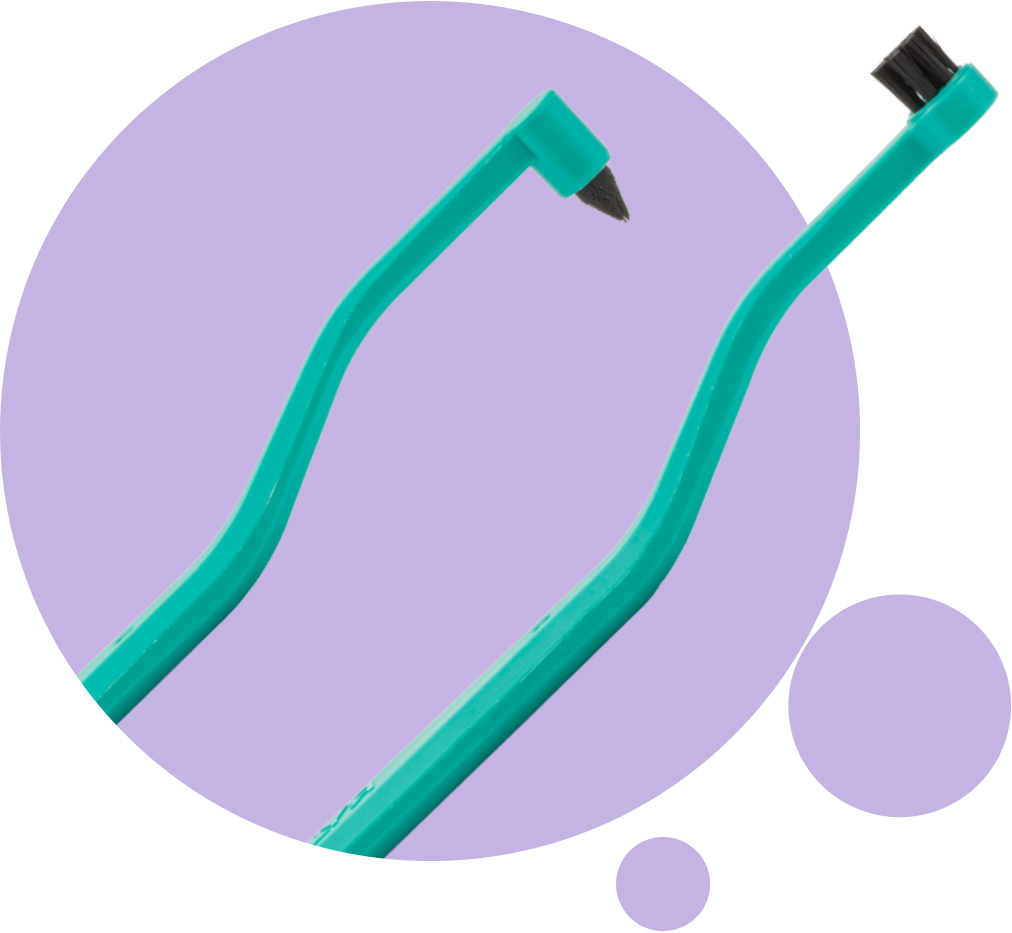 Big Toothbrushes = Big Problems
That's why RYERCAT is micro-headed.
Your cats jaw can't move side-to-side to accommodate big items like your mouth can. If you use a big toothbrush it will HURT your cat. That's why it is so important to have a toothbrush appropriately sized for cats.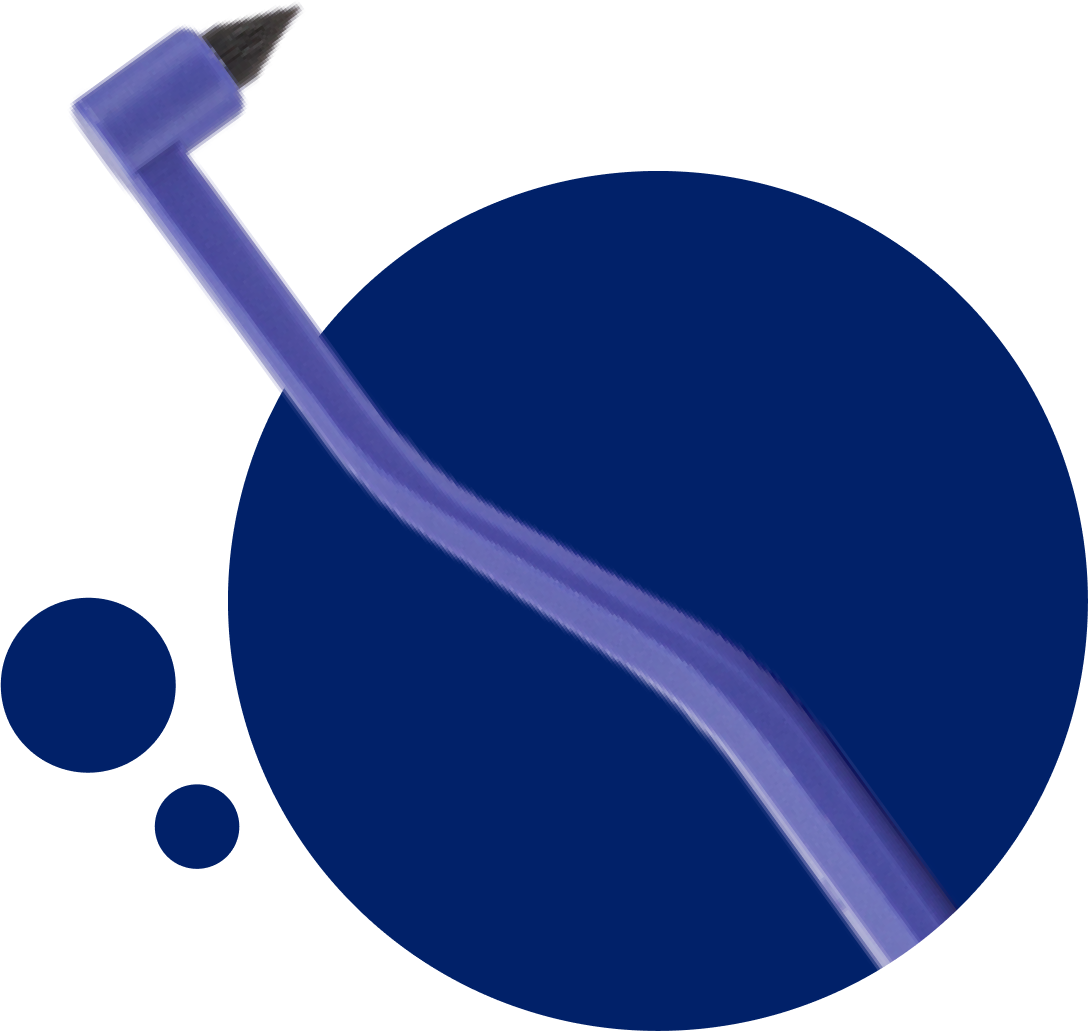 Multiple teeth shapes means you need dual headed.
The BEST 2 in 1 tool for teef brushing
The pick side of our toothbrush allows immediate access to removing build up in the back teeth during a brushing session. The round micro head side is used for everyday regular brushing and the bristles are very soft so it won't hurt your cats gums.
Earth-Friendly & Biodegradable Materials
It's soft & won't chip your cat's teeth.
Our toothbrushes are made from cornstarch. This type of plastic is softer so if your cat is a biter, they won't chip or break their tooth unlike other hard plastics! It is also biodegradable and better for the environment.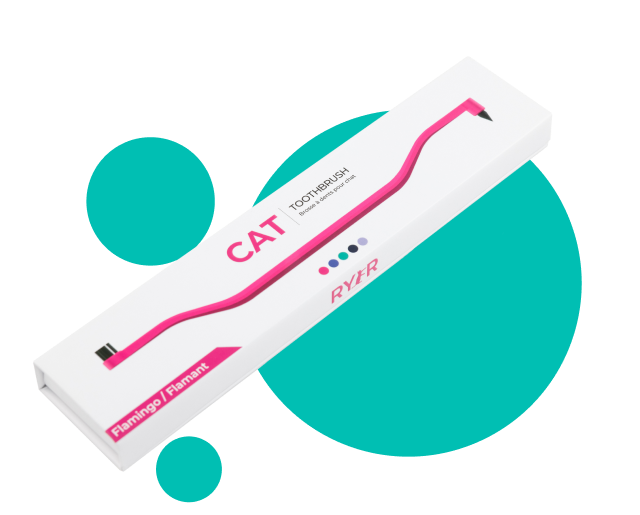 Love our product? Want to Earn as you talk about it?
We have the ambassador program for you
Join our ambassador program and get your own custom dashboard, link, and coupon code! Anyone that uses your code on our site will be tracked so you get a kick back via PayPal.